Berlin – Primark, shopping frenzy!
The main destination of our first day in Berlin was, of course, Primark! 🙂 However, before we started the shopping frenzy we had to get there. The trip from central Poland takes about 4-6 hours on the highway…
Travel to Berlin
Travel to Berlin is very easy, so you can easily plant yourself a weekend in Berlin. We start our journey at hrs. 9.00 am from Lodz. After half an hour we enter the A2 freeway, which we drive directly up to the German border. Most of the highway is toll (cost: 73.3 one way). Nevertheless, this way we gain at least 2.5 hours. In Berlin itself we checked in after hrs. 14 so the trip took us approx. 5 hrs (average speed approx. 120km/h). It is still worth refueling on the Polish side, remembering, of course, that the closer to the border the more expensive (the difference approx. 20gr/l). We recommend you a station at MOP Sędzinko (134 km from Świecko – PKN Orlen station) or at MOP Chociszewo (85 km from Świecko – BP station).
Our first point was the shopping center – Schloss-Straßen-Center, Where the nearest Polish border is located Primark. If someone is not interested in shopping in Berlin they can immediately go a few paragraphs below – for me it was a must-see point of this trip 🙂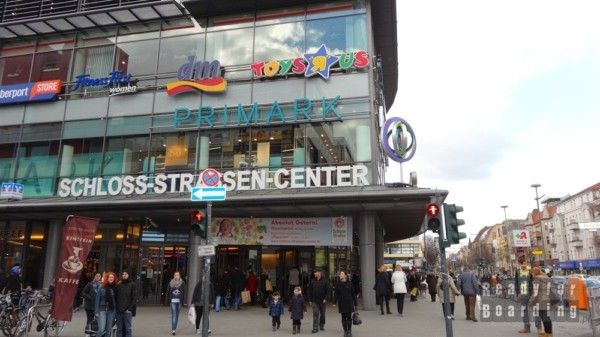 There are paid parking lots on the streets in the area – recommended Parking in a nearby shopping center (1 Eur/h).
Prices in this chain have gone up a lot over the years, however, comparing with other stores prices are still competitive. There are different opinions about the quality of these clothes, but in my opinion, the quality is not inferior to other H-type chains&M or Reserved and prices are lower. In Primark you can get almost everything: clothes (women's, men's, children's), jewelry, watches, bags, suitcases, accessories, shoes, home furnishings, cosmetics, etc. etc. Almost everyone will find something for themselves 🙂 if anyone has unpleasant memories of shopping in Primark in England I immediately reassure – here is order 🙂 The employees of the store are constantly folding and hanging up clothes, there is no mess, new things are constantly being added. Classic clothes (t-shirts, jeans, T-shirts) are cheap (2.5-3 eur for a women's t-shirt, 8 eur for a tube), seasonal clothes a bit more expensive (10-15 eur for blouses, 10-20 dresses).
Primark in Berlin – some practical information
Highlights of Primark currently closest to Poland:
You can pay by card (which is not very common in Berlin),
There are very long queues to the fitting rooms, you can take max 8 items at one time,
the store accepts returns, so if you come to Berlin for a few days it is suggested to buy things, take them to the hotel, try them on and what does not fit return the next day or exchange – there is no problem with this at all,
It is worth noting the sales that are non-stop in this store. These are hangers marked with red prices (you can hunt down T-shirts for 1 eur 🙂 )
If someone would get hungry in the mall itself and in the surrounding area there are plenty of places to eat (fast food, Chinese food, pancakes, etc.). In the center next door is Lidl, where you can buy cheap groceries (prices like in Polish Lidl, and some things even cheaper!). Unfortunately, you need to bring cash or a Maestro card (others are not accepted). In the square in front of the center are located booths where you can buy donuts or German sausages.
We got to the hotel in the evening – ALECSA Hotel am Olympiastadion, Charlottenburg. The hotel was OK (that's probably the best word), in 4 and 3 bed rooms we had 6 and 4 beds respectively 🙂 Rooms sizable, neighborhood quiet, close to the station (S-Bahn). The downside of the hotel was the lack of parking (but you can park on the street for free) and the lack of free Wi-Fi, but for addicts there is a computer downstairs with access to the net. In general, if someone is not demanding calmly can use this place.
Another Primark near Poland you can also find m.in. in Vienna.