Billund – Co? Where? Like? Practically, not only about Legoland
Today some practical tips on how to plan a trip to Legoland in Billund and what else is worth seeing here.
There's no getting around the fact that you go to Billund to see the city and its sights. One goes to Billund mainly to Legoland. Mainly, but not only, because in the immediate vicinity of Legoland there are a growing number of other interesting places that will perfectly complement a weekend getaway.
We spent almost a full 3 days on site – we landed around 8 am on Friday, and had a return flight on Sunday at 7 pm. And one could write that this is enough, ba, for some it and one day is enough. Yes, enough if we want to visit only Legoland itself in Billund 😛
And here comes the most important question: How many days to spend on Legoland? We spent one, full day and have a slight insufficiency. We were a while after the opening and enjoyed everything until the amusement park closed, with the main interest in the attractions for the youngest ones. If we were with older children, we would barely be able to take advantage of everything, because, however, there are more attractions for the older ones and, in addition, they are usually associated with longer queues. So if we were traveling with older children (pops, taller, because Legoland attractions have height restrictions) who like rollercoasters and water attractions we would probably assume a two-day stay at Legoland.
However, we want to encourage you to make your stay in Billund more interesting with at least LEGO House, which perfectly complements Legoland, or a visit to Lalandia – a city within a city with an Aquapark.
Billund – how to get there?
Now that we know how much we want to go for, it's time to buy plane tickets. We have already written a lot about the possibilities of how to fly here.
We flew from Warsaw (Okęcie) directly to Billund with Polish Airlines. This is quite a convenient combination if you are planning a day or weekend trip. Direct connections from Poland are also offered by Wizz Air (from Gdansk and Warsaw) and Ryanair (from Poznan), but these airlines do not offer daily flights, so you have to reckon with a longer stay.
How much do you have to count on a plane ticket? Here are some sample connections for the weekend, with one piece of luggage (round-trip price per adult):
If we choose a domestic carrier then for a flight on 1.11-4.11 we will pay 830,98 zlotys.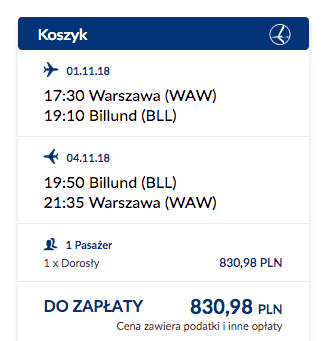 Flight from Warsaw is also possible on board Wizz Air, But the last flights are in October. Sample price per adult, for a flight on 18.10-21.10 is £422 (without Wizz Discount Club). From Gdansk we will fly Wizz Air to Billund eg. on 20.10-23.10 for 584 zlotys.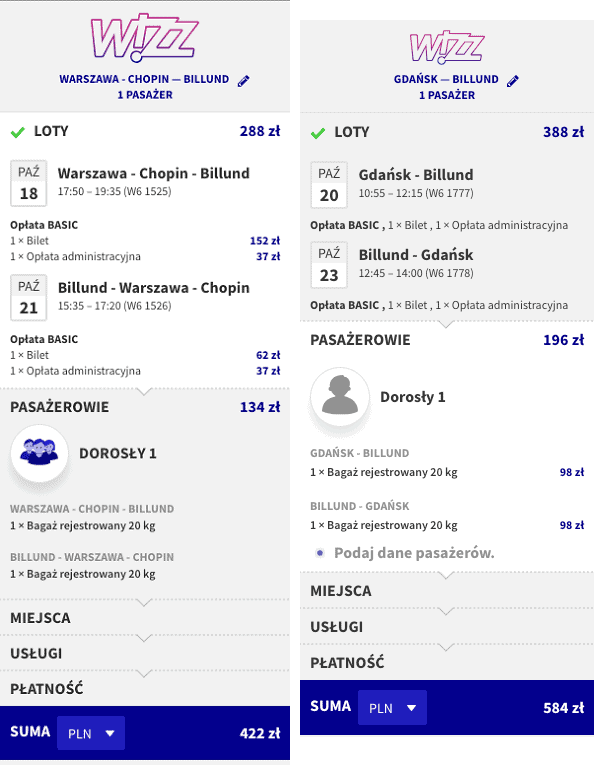 Whereas Ryanair Offers the most expensive flight, because for travel from Poznan from 18.10-21.10 we will pay as much as PLN 1,299.36.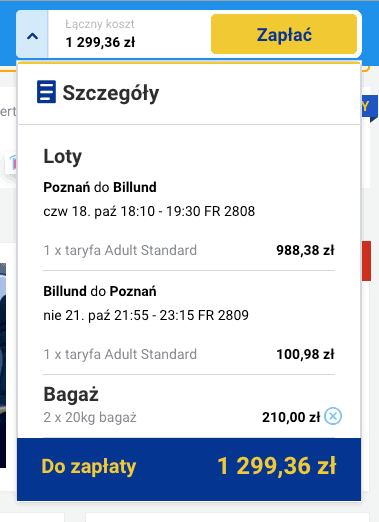 Both Wizz Air and Ryanair prices can be further reduced by getting rid of checked baggage.
Of course, these are sample prices, and in high season you can expect significantly higher prices.
Getting there from the airport
The airport is right next to Legoland itself. It is tempting to go on foot, and it is possible, but the road will take about 30-40 minutes and runs along the street.
It is possible to get there by cab and public transport – there are buses from the airport that take you almost to Legoland itself, and for a short distance, not even 5 minutes, you will pay 24 DKK per person, or about 15 zlotys!
The bus terminal is located just outside the airport exit, and on the displays you should check from which position specific buses leave. We were recommended to travel with the 944X line, because here you can pay by card for tickets. The ticket is purchased from the driver.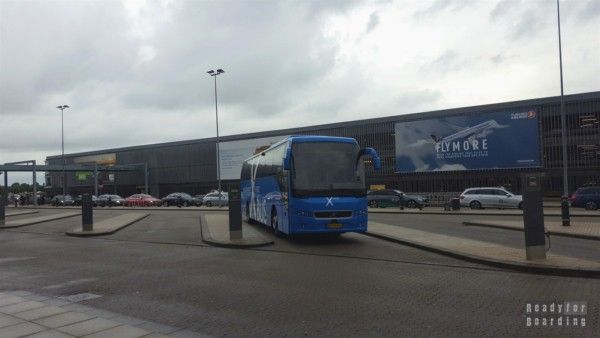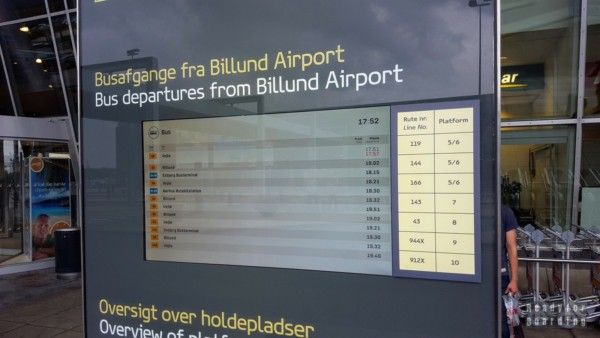 Buses, of course, can also be used to reach other places, including the city of Billund itself.
What to do on the spot?
Legoland is, of course, the basis of a visit to Billund. Fun for young and old guaranteed, and you can read about our visit to Legoland here.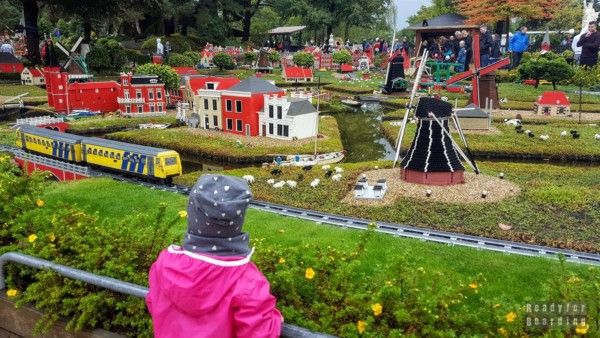 However, we encourage you to set aside at least half a day for LEGO House – a place full of bricks, fun, history, inspiration and creativity. This is absolutely not a typical museum – it is interactive fun for adults as well! We wrote a lot about the visit to Lego House itself here.
What else? We recommend you to visit Lalandii – This is a place full of attractions, from the aqua park, playgrounds, ski slope, to restaurants and stores. Lalandia is also a large accommodation facility, and people staying here can enjoy some of the attractions at Lalandia free of charge.
There is a water park with slides, paddling pools for the little ones, a pool with artificial waves, a river with a current, warm pools and saunas.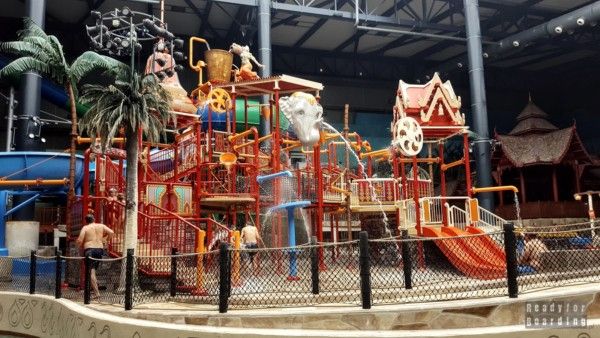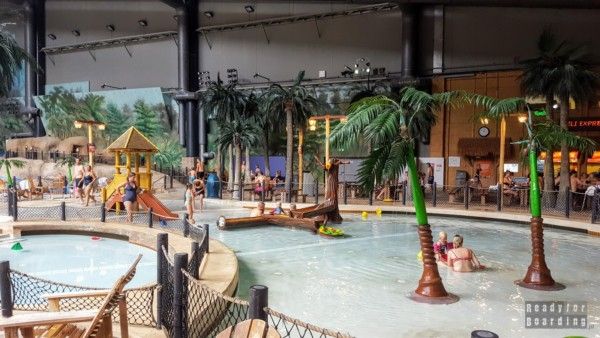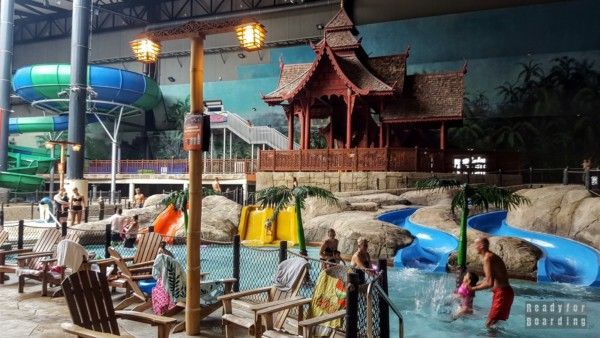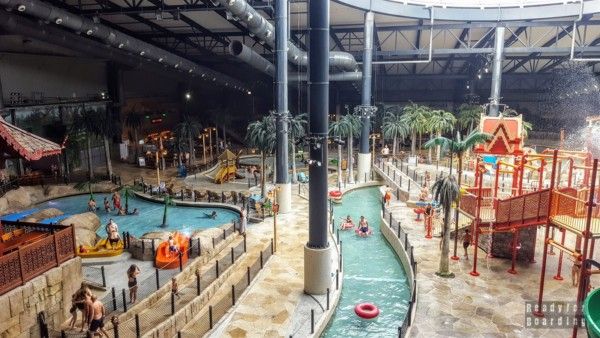 Most of the attractions are covered, but if colder temperatures don't scare you, you can take a dip in the pools outside. The cool thing is that there are special changing rooms for the disabled and families with children, where you can shower together, and there are even special bathtubs for the little ones. Anyway, also in the water park area there are many cribs for children.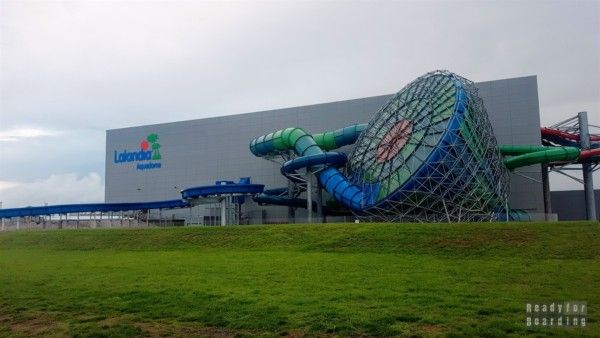 On the territory of Lalandia there is also an interesting indoor playground Monky Tonky with separate areas for the youngest children. Older ones can feel like real monkeys and fly on many levels of nets, footbridges, walls, slides, etc. Of course, Olive couldn't let go of these top attractions, and her parents had to climb higher and higher levels after her. Fortunately, it is perfectly normal here that parents also move higher and higher 🙂
And if you would like to interact with real animals, there are special pens with goats and sheep in Lalandia, which you can enter using prepared ladders.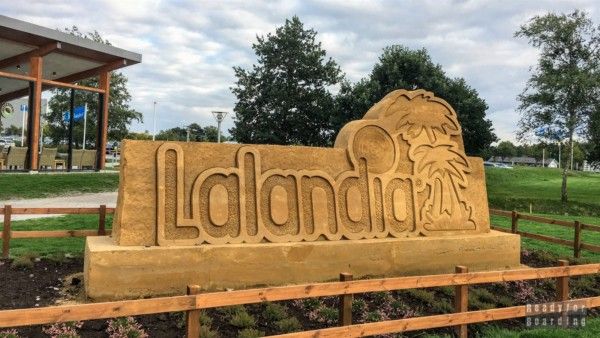 The section with restaurants with artificial sky is also an interesting place! At all times you have the illusion that there is a blue sky above you, even though there may be a storm or total darkness outside. Interesting and although it looks very natural at first glance, it can be tiring after a longer stay. This area has several restaurants, a supermarket, cafes, an ice cream parlor, stores and a small stage where animations and performances are held.
In addition, on the grounds of Lalandia you can look into the winter zone with an ice rink and a small ski slope. It was here that we already saw the first Christmas decorations! In addition, there is a climbing wall, fitness center, bowling, mini golf and many, many slot machines.
We write about Lalandia because it is close to Legoland and is worth a look, e.g. After a full-day visit to Legoland.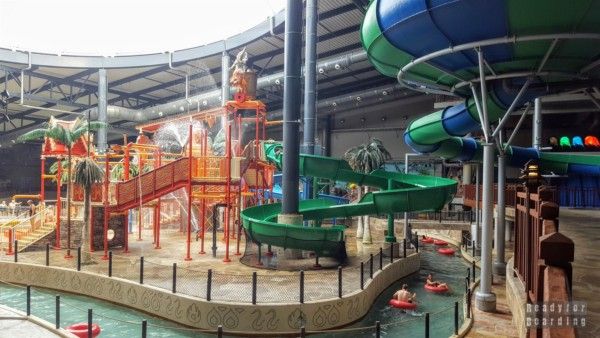 Unfortunately, during our weekend getaway we didn't have enough time to explore Billund itself. We focused only on family attractions 🙂
Speaking of such, the area is also worth noting Safari – Givskud Zoo, On which you ride among the animals in buses or in your own (or rented) cars. This place is about 25 kilometers away, and a visit there is an additional one day.
Where to stay overnight in Billund?
We stayed overnight in the aforementioned Lalandia. We had at our disposal a whole cottage, which, in addition to two bedrooms and a bathroom, had a living room with a dining room and a fully equipped kitchen. The house was spacious, clean, Scandinavian style, plus we got a crib, changing table and highchair for the baby.
The house fully met our expectations, it was located in a quiet and peaceful area.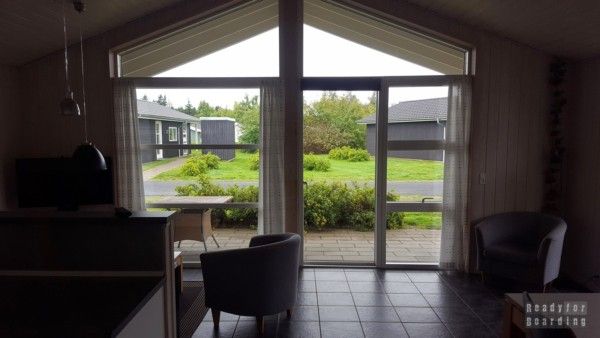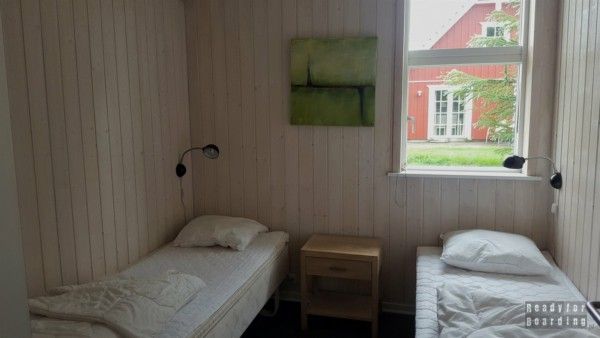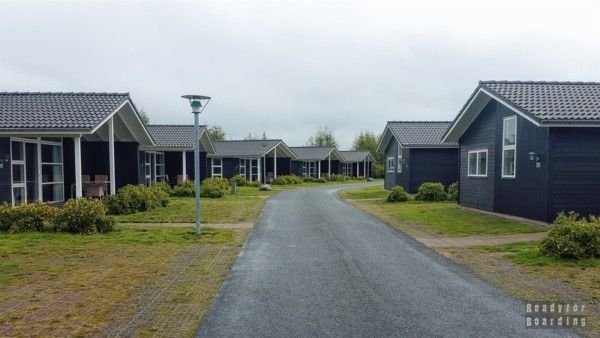 Many people choose to stay at the Legoland Hotel, which borders the amusement park. Everywhere is dominated by the Lego theme (right from the entrance and parking lot), and also the rooms are of course kept in the block atmosphere. What this looks like in practice can be approached during the virtual tour link.
Next door to Lalandia, is Legoland Holiday Village, where you can stay overnight in cabins, Indian tents, a motel or your own tents and caravans. Here, too, there are many references to the Lego theme, and you can see them at this link.
At both Legoland Hotel and Legoland Holiday Village there are many references to the most popular building block sets: Ninjago, Lego Friends, pirates or the wild west. So if you have a little Lego fan on board, you may have no choice but to stay overnight in just one of these two places.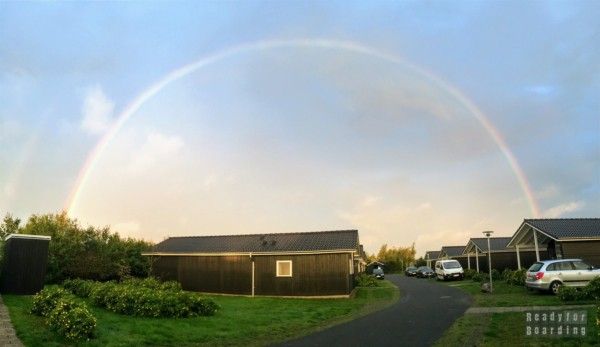 If you are already planning a trip in 2019, chances are you will be able to stay overnight at a brand new facility – Legoland Castle Hotel. We saw its construction, it promises to be interesting 🙂
It's also worth checking out Booking, or Airbnb if you're interested in less "chock-a-block" accommodations, though 🙂
Summary
We hope that this handful of practical information will help you plan a trip on your own and both children and parents will have a memorable weekend 🙂