Japan – day 0, fly Emirates, fly!
As you already know on our trip to Japan we took one of the best airlines in the world – Emirates Fly Emirates. The trip itself was very long (with a transfer in Dubai), plus the time change made the trip last two days.
Fortunately, both the transfer in Dubai and the flights themselves passed very smoothly and pleasantly.
Warsaw-Dubai flight (WAW-DXB)
Already at the very beginning of our long journey, we met an unpleasant surprise – a late train to Warsaw… Fact, on this route it often happens, but does it have to when we rush to the plane? As ever, smiling and apologizing for everything Mr. Conductor was able to relieve tension on the train. Fortunately, we got to the Chopin airport fairly on time. The whole check-in went very smoothly and we took our seats on time on the plane, which to put it mildly… disappointed us.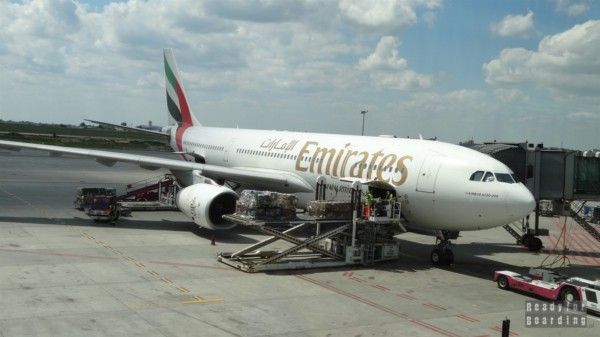 Old aircraft model, poor entertainment system (on small and weak monitors). But nothing, because for about 40-50 minutes after takeoff anyway, you couldn't choose channels. Finally we asked the flight attendant why we still couldn't watch anything, and the answer completely surprised us. It turned out that the system had not been turned on at all for so long and no one noticed it! The choice of movies was very limited, plus the movies flew according to the program and you could not turn on a particular movie and stop at any time. Not what we expected from Emirates.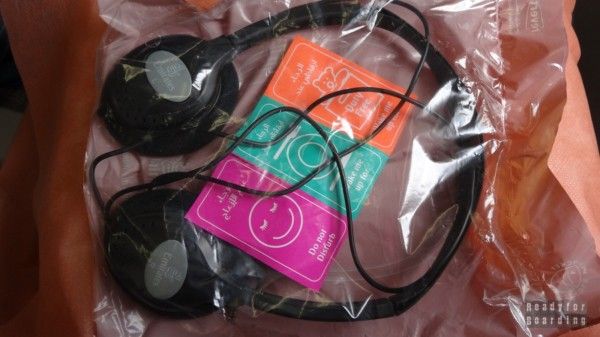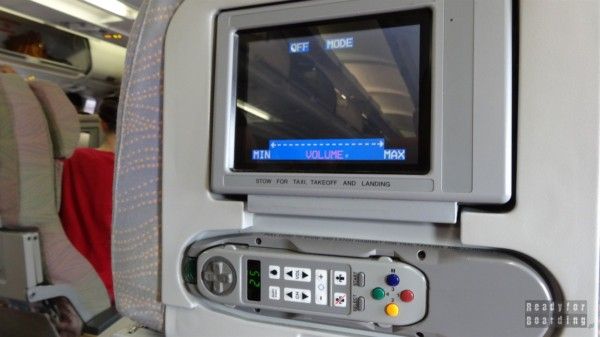 However, they successfully made up for it a bit with the meals: at the beginning we were given a menu with two dishes to choose from (as it turned out later, this did not apply to us, because even before check-in we had chosen a special meals). One of the benefits of special meals on airplane flights is that they come before the standard ones! 🙂 The food itself was quite good. Of course, throughout the trip we could order drinks (including alcoholic beverages). After 6 hours of flying, night came, and we began our approach to landing in Dubai.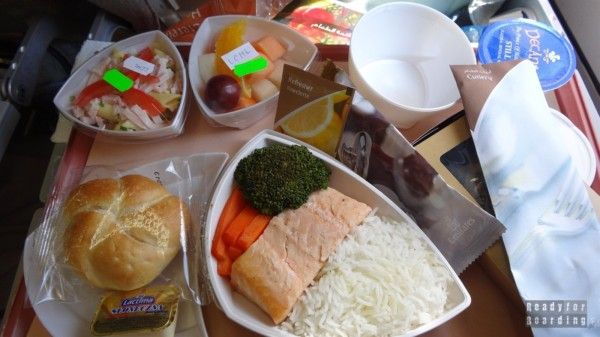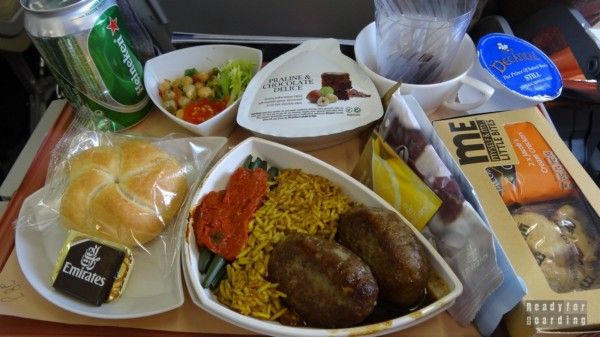 Dubai Airport
After passing the makeshift check (where we didn't even have to throw away drinks), we arrived at the departure hall, where luxury can be smelled a mile away. The best stores, the most exclusive brands, the most expensive spirits and quite cheap food in the stores – all this awaits those waiting for the Dubai transfer. If anyone has change with them they can buy a Cognac for 11k or a cell phone for 40k, covered with diamonds of course 😉
Although we would never have expected it, this airport was where we got the most cold during the entire trip. Seriously! Wrapped in sweatshirts and jackets we lay down on comfortable recliners and waited about 2 hours for our next flight.
Dubai – Tokyo Narita flight (DXB-NRT)
The flight was on a Boeing plane and took 9.5h (!). It was only on this flight that we understood why Emirates is one of the best airlines, and we were not flying first class at all. Comfortable seats, socks, hygiene kits for everyone, great on-board entertainment system (large selection of movies, TV series, music), delicious food, great service – what more could you want 🙂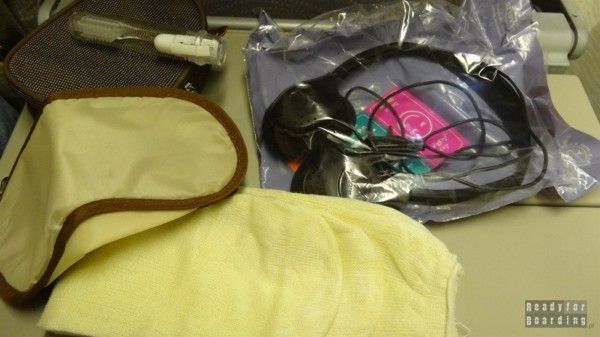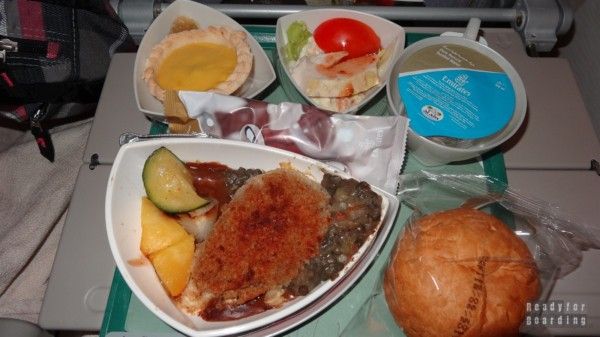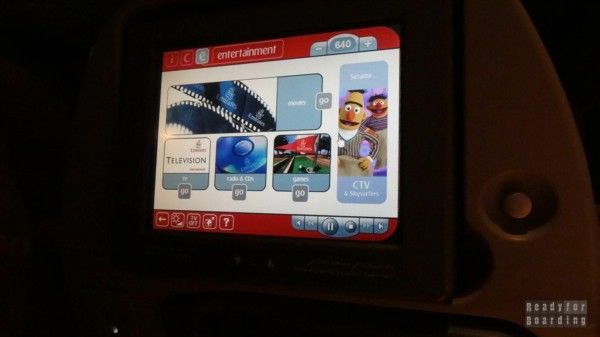 The vast majority of passengers were Japanese, who as soon as they took a seat fell asleep with their heads firmly down. As it turned out later, it is typical for the Japanese to fall asleep wherever they can. The lines were prepared to meet the needs of passengers and green tea, Japanese cuisine was served and you could order instant noodles at any time. The flight passed quietly and quite quickly for the nearly 10-hour journey. We landed at the airport Tokyo Narita.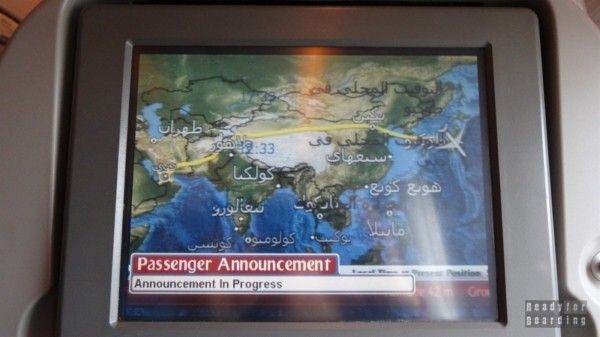 Getting to downtown Tokyo from Tokyo Narita Airport
The cheapest option to get to downtown Tokyo was to buy single train/metro tickets. At the airport you can also pick up JR Pass (Japan Rail Pass), or season tickets for all kinds of trains, but we'll write about that in another post…
After just a few minutes, it dawned on us that we wouldn't understand much from the Japanese stamps, but fortunately there are also signs in English at all stations, and the staff is very helpful. From the very beginning we were also struck by the huge number of vending machines at every turn.
Tired, we arrived at the train, which took us to the center, from where we changed to the metro straight to the hotel. A quick check-in and we went out into the city to get a feel for Japan, and buy something to eat on occasion.
We took our first steps to a store where we could eat something (since it was already late the choice was 24-hour 7 Eleven, such our Polish Żabka). Unfortunately, intimidated, we didn't really know how to even guess what was offered in this store, but somehow managed to buy snacks and drink. After a short walk through the empty streets, we returned to the hotel.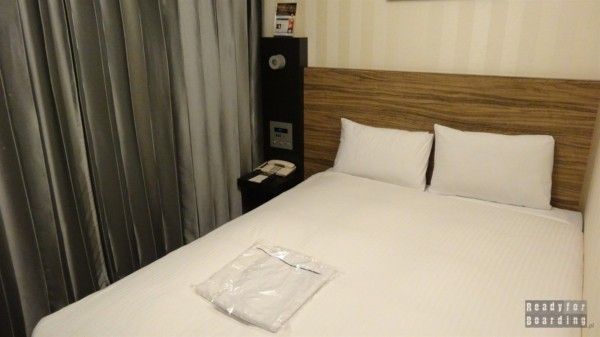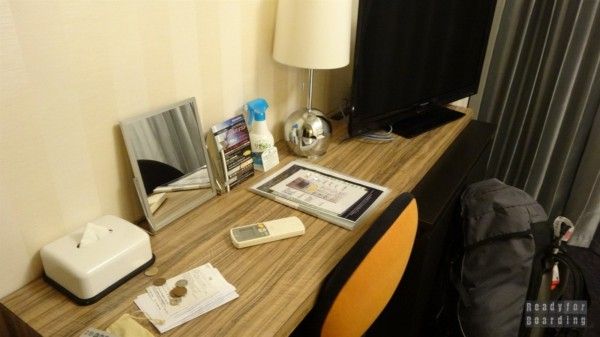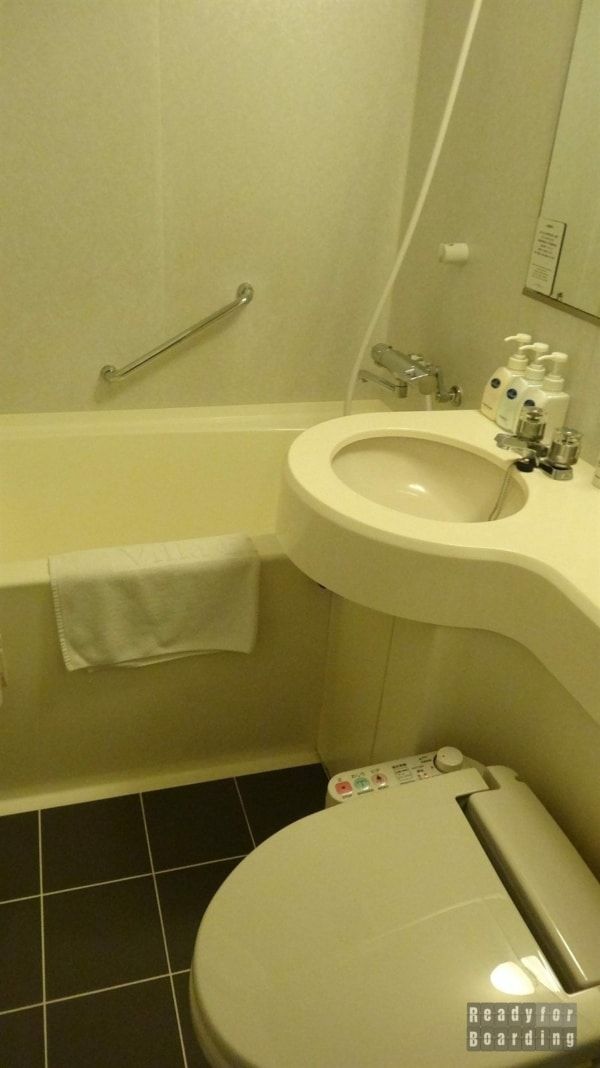 The hotel, although not a "capsule" was really small. No closet, only a table for the TV. By design, the hotel was to serve us only for the night – spending the day there was a waste of time when there were so many things to see outside. Bathroom, of course, with typical washletem That is, a kibbutz with a thousand strange functions, which we discovered with each passing day.
We can safely recommend the hotel to you. It is located slightly out of the way, but it is only about a 15-minute walk to Tokyo's main station. The hotel is called Villa Fontaine Nihombashi Hakozaki.