What to take on vacation? Download the full list!
What to take with you when you go on vacation? What to pack for a short city break? In this post we have a double bonus for you! We will suggest, using our example, what to keep in mind when packing before a trip and give you under your nose a ready-made list that we use ourselves before each of our trips! 🙂
Yes! Before each! 🙂 Although we travel quite often, even before those shorter and closer trips we always look at our packing list. Sometimes ticking off more items is quick and easy, sometimes it turns into tedious work, but definitely packing with this list is much easier.
At the bottom you will find instructions on how to download for free the ready-made (interactive. ) packing list template. For free. Well almost free 😉 But don't fly to the bottom of the entry, because first we'll describe to you what, how and why.
And another footnote, not at all in the fine print: this is the actual list we use, which we created for ourselves (well, maybe just more nicely sorted, without spelling errors ;)). These lists (and there are two, for those traveling with toddlers and for those traveling without children) contain a whole pool of things that we always consider, but don't necessarily always pack in our backpacks and suitcases. There are both winter and summer clothes, electronic equipment larger and smaller, cream for the cold and sunscreen.
In other words, it's never the case that we take 100% of the things on this list, but in our opinion it's better to have one list with everything than to divide it into categories for ourselves. Because you might want to remember to have a scarf when you go to Mexico in January, so that you don't get cold when you arrive in Poland 😉
What to pack, what to remember?
First of all, our list is divided into several categories. Within almost every category you will find several subgroups, that is, things more or less from the same barrel (they are separated by a blank field to make it easier ;)).
So in a telegraphic summary we have:
Important, That is, all documents, reservations, insurance, health books.
Medicines, Which is kind of our handy first aid kit.
Electronics, i.e. laptops, gimbals, cameras, drones and cables of all kinds.
Hygiene, because on trips you also need to take care of yourself 😉
Clothes, So that even on paradise beaches we don't walk around in Adam and Eve's clothes.
Kitchen, That is, washcloths, cutlery – something that can always come in handy.
Other, That is, things that do not fit into other categories, but are nevertheless essential.
and Beaver, That is, everything with the youngest members of our team in mind.
What to take on a trip with a baby?
In our case, the list of things to take for the baby is by far the longest, because it actually includes all the other categories in it. Both clothes, medicines, cosmetics and toys or other.
Most important of all, however, are the aforementioned medicines, mainly for fevers (we will have to write a separate post about the first aid kit), light toys for the road with a small child, documents, insurance and EHIC card.
Of course, it is also worth remembering something to wash, diapers, wet wipes, clothes depending on the weather on the spot, food (if the more the child has allergies, or eats only familiar and tested).
What clothes to take with you?
And really the question should be: How many clothes to take with you? We always have too many of them! 🙂
While for children it's understandable that it's better to take more than less, adults don't get so dirty anymore. Since we often move around during our trips it's unlikely that we count on washing something during the. So, unfortunately, clothes still take up a good portion of our luggage, although we are making some progress on this topic.
When packing clothes, you need to remember not only the weather on the spot, but also in Poland. Before and after the flight, because this weather can vary greatly 🙂 It's also worth taking swimwear with you, even if you're going to a cold place. We did so when going, for example, to Iceland (you can read about swimming pools in Iceland here) and since then we take outfits always, because you can always find an interesting pool 🙂
What cosmetics to remember about?
For us, the staple is always something to wash (bar of soap, shampoo, gel). Small samples or transferred your own cosmetics into small travel containers (which you can buy at any drugstore) work best. We use such travel toothbrushes, folded in half.
Just this much? Of course not. In fact, we already have permanently packed two makeup bags, which are always waiting in readiness for future trips, and from time to time we only replenish them with used supplies 🙂
More, of course, you will find directly in our packing list.
Download the list of things to pack!
We have prepared 4 (in words: four) PDF files for you. Two in the print version and two in the mobile version. One each for those traveling with and without a toddler.
The mobile version is interactive! I.e., you don't have to cut down trees and print out a list to cross off the things to take with a pencil. On the mobile version you can tick off the already packed items directly in the PDF. But one note: you must open the document in the official Adobe Acrobat Reader application, not in system browsers (saving the document will also remember the unchecked things on the list).
To download a list of things to pack, sign up (for free!) to our newsletter. Link to download You will receive the materials with your confirmation of signing up for our newsletter.
We promise not to send you any advertisements. Well, maybe not any, but just one that informs you about promotions and news in our store, and new posts on our blog. And no more than once every two weeks! We promise 🙂
You can download the file for free by filling out the form in our store, here: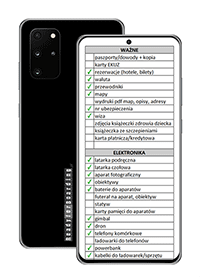 …or by subscribing directly to the newsletter here:
Subscribe and download the packing list!
Pyk and in 3 minutes the list will be yours!
Let us know in the comments Whether the list is useful, or whether any amendments are needed. Any comments welcome 🙂