What equipment to take with you on vacation?
We go on vacation! Super! Finally, we will relax, we will not think about everyday issues. Easy, right? 🙂 Unfortunately, for many people, going on a holiday trip, let alone just packing, is a lot of stress…
In this post we will approach the topic of packing a little differently. Not in terms of what and how much to take (you can read about that in this post: What to take on vacation? Get the full list!), but in terms of the equipment we need and whether we're sure we need it so much during a two-week tour or lying belly up on the beach 🙂
What equipment to take with us on vacation:
Camera or phone?
What would a trip be without memories, and how best to keep them? With the help of images (including moving ones), so photos are definitely a must. However, not so obvious these days. Because, after all, according to the latest statistics, about 60% of Poles have smartphones, which by design also have cameras. Of course, the better the phone, the better the camera.
We, some time ago, switched from the worn out Samsung Galaxy S3 to a iPhone 6S i Samsung Galaxy S6. The old S3 was hard to take pictures with. Apparently, it was not such a bad camera (8 Mpix), but the phones already muddled quite a bit, and also the quality of photos left much to be desired.
In addition, phones are not only used for calling and taking pictures, but we need good, reliable equipment that can withstand recording videos, navigating, streaming music and, of course, all at the same time 🙂
After the switch, we couldn't tell the difference between photos from the 6S and S6 and those taken with a DSLR or mirrorless camera. We're talking, of course, about good shooting conditions, natural lighting, because when it came to taking pictures in the caves we definitely put our phones in our pockets.
These phones, are also great devices for recording videos (which maybe one day we can finally put here ;-)). The iPhone shoots video in 4K, so here it wins decisively over cameras with video recording functionality.
Well. Nevertheless, we never move without a standard camera.
So far we've been traveling with a DSLR camera Sony Alpha A350 (+ one battery in reserve) and Sony compact (unspecified ;)). However, the latter has already messed up a bit (after numerous falls, especially into the sand), and the former finally refused to serve overnight. However, we always had our lousy phones in reserve.
We recently replaced, forced by the failure of the Sony Alpha A350, a DSLR with the Olympus OM-D E-M10 mirrorless. And from now on, our ideal package is just him + our two phones.
For longer trips, of course, we still take the old Sony compact as a backup, but we are still carrying around the idea of replacing it or ditching it altogether.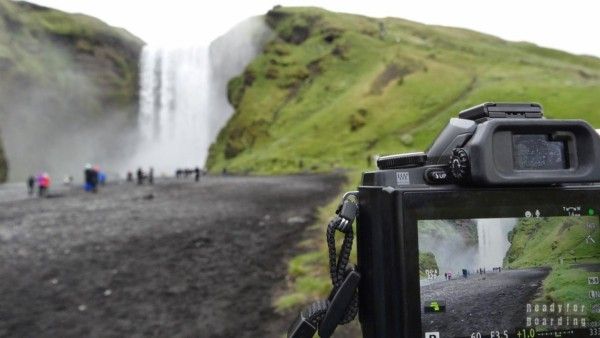 Mirrorless Olympus OM-D E-M10 It is light and handy and fits into a jacket pocket. So it takes up very little space, and the quality of photos is no different from DSLRs. This was our biggest concern, but completely unnecessary. The battery also holds quite well, definitely longer than the manufacturer's technical information states.
So what about the camera? What to choose?
In summary, we usually take a mirrorless Olympus on trips, plus two phones with better cameras. Sometimes we still take a handheld compact in reserve. We are not professionally engaged in photography, so such a set is 100% enough for us 🙂
Tablet or laptop?
This topic is already heavier… Whether to take a laptop or take a tablet? Why?! After all, we are going on vacation, to relax! 🙂
And this should be the reaction. We definitely go to rest. And excuses like "well, but I'll want to book hotels, check attractions, watch a movie, etc." won't work. After all, just a few years ago you traveled even without smartphones, mobile apps and managed 🙂
Tourist information can be found in almost every corner of the world, and even if you don't find any, there is always someone who will give you good advice and information.
We, however, often travel with at least one laptop (for our two). For two reasons. Sometimes, going for example. to the Canary Islands, we know that we will have more free time and will want to allocate it to ongoing work on the blog.
Often, however, we end up only scraping something there at the beginning of the trip, and later we prefer to spend all our time exploring different places.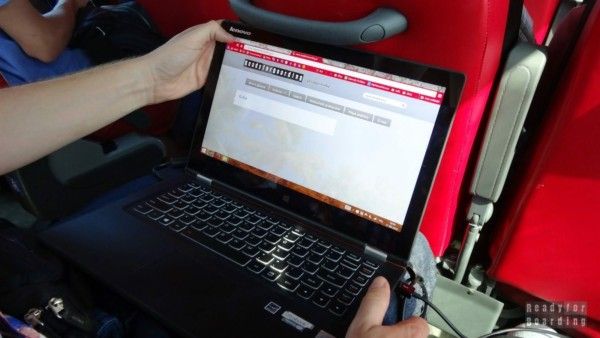 The second reason we often travel with a laptop is that at least one of us works remotely. Fortunately, we sometimes have this option, which allows us to travel more than 26 days a year 😉
If you're already taking a laptop, it definitely needs to be light and handy. 13 inches is the maximum, so that it does not take up too much space. If you have a larger screen it is worth thinking about a tablet.
Nowadays there are a lot of tablets available with Windows (I personally advise against it), but even those with Android (we use a Samsung Galaxy Tab S) make a lot of activities possible. From writing trip reports to booking attractions, accommodations, taking photos (even!) or at least even the use of Google Maps 😉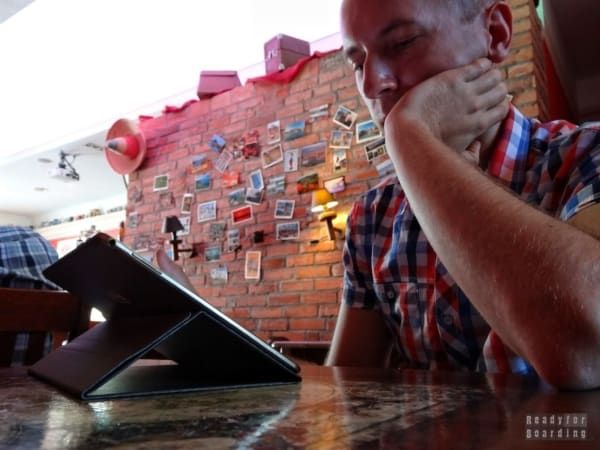 We, too, sometimes took a tablet (+ bluetooth keyboard), which quietly coped with writing reports during the trip or at least for watching movies during the trip.
Currently, instead of a tablet, we always take smartphones, which have almost all the same functions, only a smaller screen, so if you are not going to watch videos, then the phone is completely sufficient.
Although sometimes I think we overdo it, as can be seen in the evenings when we want to catch up on our spare, here in Iceland 😉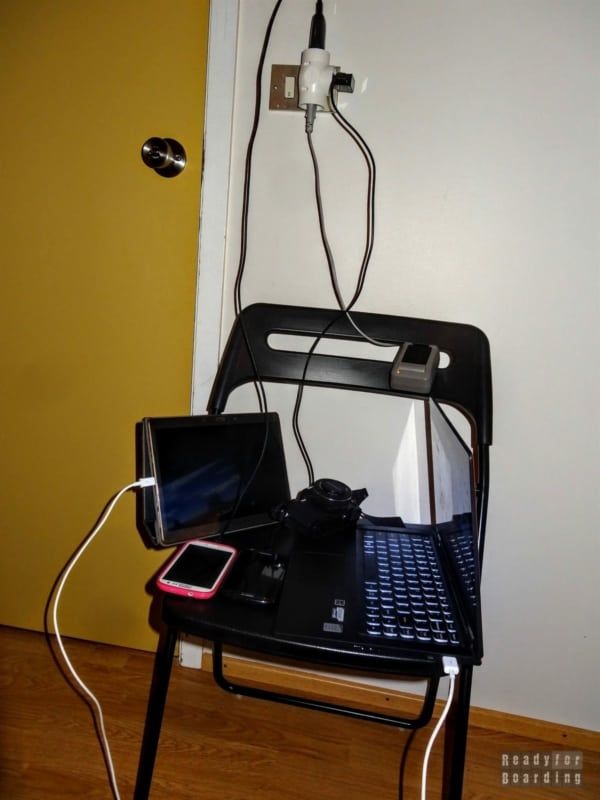 To take or not to take?
To summarize, however: it makes no sense to take a laptop/tablet to places where it will be completely superfluous to you, such as the following. us on our trip to Cuba. Back then we didn't even take a tablet with us, which sometimes just replaced a laptop, sometimes a smartphone.
We also didn't take computer equipment to Rome, where we knew there would be so much to explore that it's simply a waste of time staring at the monitor… from which it's also sometimes good to take a break.
Development of new technologies and applications (e.g. special apps for city tours) makes more and more places are adapted and have free Wi-Fi. Let's not kid ourselves, you need to use it, more than once it helped us in critical situations (even if it was translating, looking for the road or the next accommodation), but it is always worth considering what you want to do on the trip.
This is also what we wish for you and what we recommend to you: Vacation = relaxing, exploring and spending time together… and not staring at a monitor, even a small one, on a smartphone 😉