How to pack for a trip (to China) with a small child?
What's the worst thing about traveling? Packing! I honestly hate this process. While the planning of the trip itself is fun for me, I would gladly cede the packing to someone else. So how to get through this ordeal? Today some tips and ideas, using our trip to China as an example.
You may think that, after all, after so many trips, packing should be in our little finger and should take max one hour. Maybe it should. Half bad when you go to a place where you know what to expect, have resident care and certain weather. Worse if you're going somewhere where forecasts show it could be 10 to 30 degrees in 2 weeks, or you want to cover thousands of kilometers where a different climate awaits you.
What annoys me the most? Just picking out clothes and shoes – this is the most time-consuming, and still at the end you will take either too much or too little, or too thin or too thick. You won't get along. Even more so when packing children's clothes – here you have to be prepared for any scenario, and that's several sets for changing… you know why 😉 Other things like cosmetics, medicines, accessories are already, one could say, a peeve 🙂
There's another thing that gets on my nerves: too big number of handy things. Very often, we just end up throwing things in our backpack that we don't use and don't need to have on hand anyway, and they take up unnecessary space. In addition, any net of food and suddenly we find that there are not enough hands to carry everything, and baggage control is a real anguish.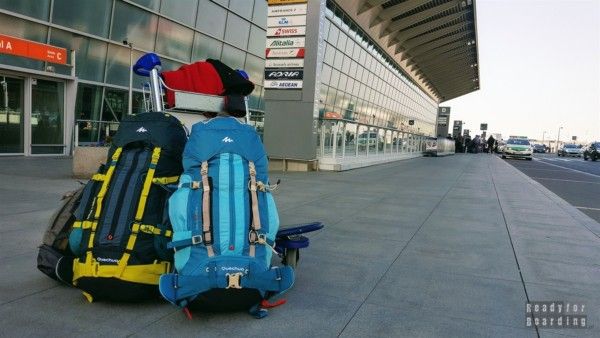 I realize that some people like packing, they can have everything washed, ironed, arranged and waiting to be put in the suitcase a week beforehand. I admire, I really do. I, unfortunately, leave it to the last minute. Or maybe I should write: left behind? I learn a little from my mistakes 🙂 I remember the first flight with Olive, or rather the preparation for that flight (to Sicily), which was stressful to the maximum, and not because the first flight. It was more about the very fact of how to pack when there is a baby in the house who can't let you out of sight for a while…
Slinging helps, but unfortunately packing requires bending, reaching, squatting, which is difficult with extra pounds on your back. Well, so I didn't know that I have to spend 2 x more time on this packing (and it's not at all about the extra time to pack the baby's things).
And yet, we travel quite a lot, we have never yet missed a flight because we did not have time to pack, and we have never had to pay for excess baggage. So What to do to make packing more pleasant?
I read somewhere that it is necessary to change the mindset: not what I want to take, but what I need! One wise head told me: divide the things you want to pack into three piles:
What can You'll need.
What probably will come in handy for you.
What for sure You will find it useful.
Discard the first two, and take only half of the last one. And this is the essence 🙂
What to pack in?
Let's start with the basics – Suitcase or backpack? It all depends on the nature of the trip: if you are going stationary, in one hotel, you have a direct transfer – a suitcase is ok. However, if you plan to move locally, travel by train or public transport with luggage – consider a backpack. If you go in the second option in addition with a baby stroller – be sure to take a backpack.
Why? A backpack is handy, comfortable, smaller (although not always), and most importantly, your hands are free. Banal? Try pulling a suitcase, pushing a stroller, plus squeezing through gates, doors, buying or reaching something, passing inspection, entertaining a toddler, picking up toys, etc. etc. Believe me, free hands come in handy 🙂
We packed for China in two large backpacks from Decathlon: Forclaz Easyfit from Quechua in men's (70l) and women's (60l) versions, and two carry-on model N-Hiking, also from Quechua (both 30l each), plus of course we had a stroller with Bobas on board 😉 It was a perfect set, because we carried everything on us, and there was only the stroller to push. What's more, having a large backpack I was even able to have Olive in the front carrier! 🙂 With less, it's absolutely no problem 🙂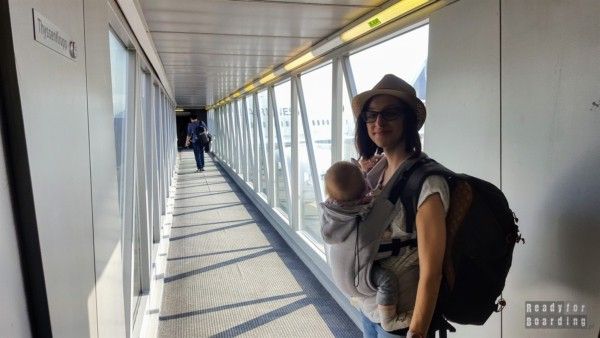 What to pay attention to when buying a backpack? For us, it's important that it's roomy, has side pockets and a separate bottom section, and most importantly, that you don't feel the weight – in fact, when properly fastened to the hip belt, you don't feel those teeny kilos at all.
At first, we were a little concerned about the capacity of the backpacks (70l + 60l). They seemed smaller than our existing, worn-out backpacks, but once packed, they turned out to be very roomy. We were also afraid of the express on the front of the main pocket, yet now I know that this is a very useful thing, so that you don't have to pull everything out of the backpack to get to those things at the very bottom of it.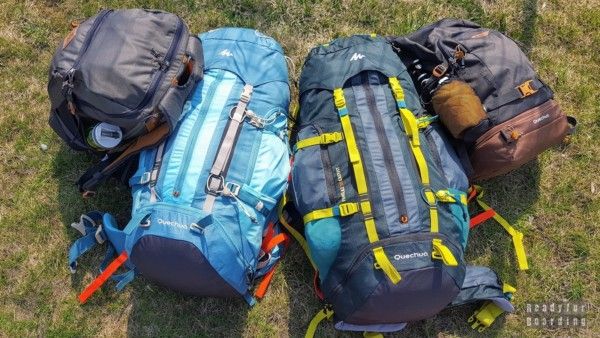 We managed to pack all three of us (. ) into these two backpacks (on Olive we could also take full-size checked luggage, which we did not use), and even there was some space left over. I should add that the flight endured without the slightest damage to our health 😉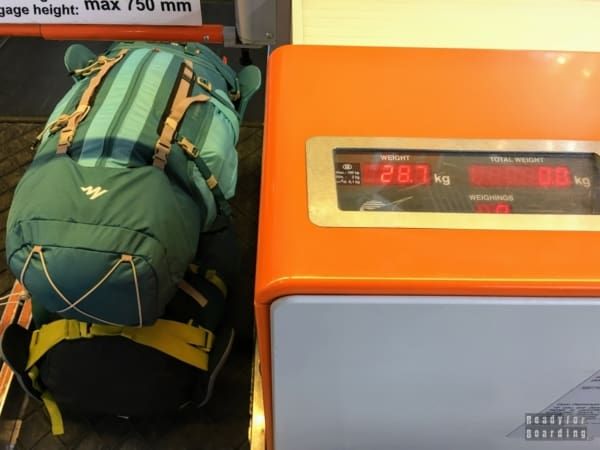 For hand luggage we also take backpacks, but of course smaller ones. The models we had we also recommend in good conscience, they are very sturdy, comfortable and, above all, roomy, which is important especially when you are traveling with a baby and you need to take a ton of toys, diapers, food, clothes, etc. with you. Not only do they have an easily accessible pocket at the bottom (which is great!), then from the very bottom is hidden rain cover, which unfortunately came in handy a few times for us.
In case of lost or delayed luggage, it is worth having in your carry-on backpack basic toiletries, a toothbrush and underwear for a change 😉
———————–
👉👉👉 We recommend our ebook "Family travel – Packing"! 💚
You will find:
👉 136 pages full of practical advice How to pack to not go crazy and
👉 6 ready-made templates packing letter, including a self-packing version for children!
Packing for a trip with a baby has never been so easy! 🌴 🙂

What clothes and shoes to pack?
As a rule, we start packing with clothes and shoes, because they usually take up the most space. Due to the nature of our trips, we focus on comfort: clothes that are looser, cotton, breathable, versatile, so that they go with everything. There's no denying, it matters to me how I look, but I don't take my whole closet, just a few pieces, classic, versatile clothes. When packing, it's worth seeing if there will actually be an opportunity to wear a particular item (e.g. appropriate shoes, dress bag, socks appropriate to the shoes, etc.). I always want to take too much 🙂 Only after the nth selection it somehow looks like this.
How to choose things? The best thing to do is to make a list of how many t-shirts, strapless shirts, pants, dresses, sweaters, sweatshirts you need and sew exactly that much. DON'T go through your entire closet and take what you feel like and then make a selection – it's more time consuming and there are more decisions to be made.
As for how much of what to take, it's very individual, but we never take one t-shirt a day, always less (we take about half). After all, you can wash on the road too 🙂
Some recommend taking 7 sets of clothes, Whether you are going for two weeks or a month. I would add that a lot depends on where you are going. In warm countries things dry very quickly, so you can take less of them.
I always take a shawl/pareo/pashmina in addition, which have multiple uses and work great when it's a little cooler and that way one less sweater to take.
It is also important packing method: clothes are best rolled rather than folded into cubes. You need to pack so as to use every space (you can put socks and toiletries in shoes or cups).
Going to Beijing we had to take both warmer and summer things. In fact, there were days when it was cloudy, cool and we walked around in sweatshirts, and there were days when the sun was shining and the temperature reached 30 degrees. So we had both good, warm fleeces, decent rain jackets, but also comfortable shorts. Although we used the latter far less 😉
Cosmetics
The basic question is whether there will be toiletry kits in the hotel? If so, we have the issues of shampoo and shower gel out of the way 🙂 There is no need to take a whole new pack with you. Even if the hotel won't have cosmetics, it's a good idea to pour them into smaller containers and take them with you, instead of carrying a large bottle or tube.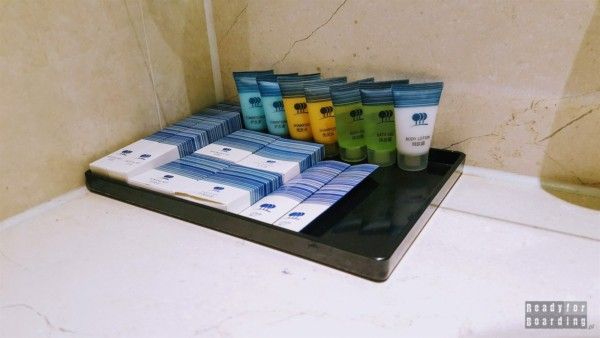 We try to pour or rearrange our cosmetics into smaller and smaller tubes and bottles, because it saves a lot of space and kilograms (especially space!). However, we recommend always wrapping them in foil or lining them with cling film before capping to avoid ew. A flood of other things. The cream containers can also serve a variety of functions: you can put jewelry, hair elastics and other small items in them. You can also use a lens container for this purpose.
What else? We share cosmetics 🙂 For trips we take those that are universal and we can both use them, for example. Face cream, washing gel, shampoo, tonic, etc.
It's a good idea to pack your cosmetics in a toiletry bag that you can hang – hotels often lack the space to spread everything out, and such a toiletry bag can be hung at least on the door. In addition, it folds easily and we do not have to waste time unpacking and packing cosmetics.
We also recommend taking travel towels, which take up very little space and dry quickly. We always take at least one such towel with us, even if we know that we will have towels at our place of accommodation.
Medicines (travel first aid kit)
In our small First aid kit always find a basic kit: painkillers, antipyretics, something for diarrhea, sore throat, plasters, bandages, gauze. We also have a special kit made for Olive with safe baby medicines. We have such a kit always prepared in the bathroom and ready to take away.
We do not take whole packages, as a rule, one blister each (if there is something new we also take the leaflet with us) – so that there is enough for the first few days.
It is important to review the expiration dates of medicines from time to time (!). Remember: we give old, expired medicines to the pharmacy, not throw them in the trash.
What equipment, electronics to take with you?
Camera, phone, laptop, tablet, reader… electronics have become an integral part of not only our luggage 🙂 And along with the equipment we take a lot of accessories: lenses, tripod, batteries, chargers, cases… a lot of it.
We used to take two cameras with us: one compact and a DSLR, but nowadays we travel only with a mirrorless camera. We also invested in better phones, so we take good pictures with them, too, with peace of mind.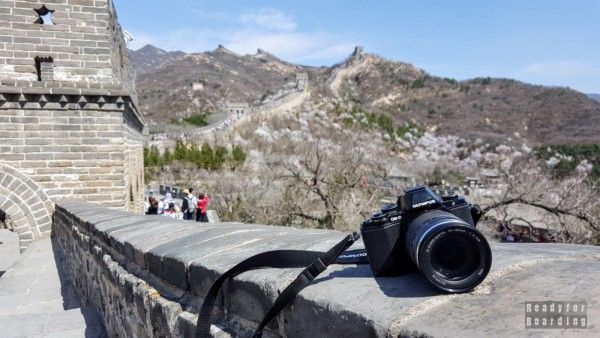 A few times we wanted to give up the laptop, but overall we generally take it, although in most cases we are forced to do so by blogging 🙂 It is still definitely easier for us to do something on a laptop than on a tablet/smartphone, you can write posts and browse the web in peace.
But that's not all. In China we had a small breakdown of the cell phone, on which there were a lot of pictures – a problem with the software. Here the laptop helped, because we could easily rip everything to another piece of equipment and save the photos (we could have used the cloud as well, but remember that in China the internet is governed by different laws). So, in our case, the laptop has an advantage over the tablet, especially since in weight and dimensions it is only a little larger, and the battery lasts quite a long time.
What else? We try to take universal chargers, adapters, splitters instead of extra cables.
As I mentioned, China is a specific destination when it comes to internet access. Forget Facebook or Google (yes, you won't even use maps on the spot!). We (or more precisely, Paul!) we got around this problem by buying a VPN – we did have a few technical problems on site, but this was related to the weak network in the hotel. Other than that, it worked flawlessly and we were able to stay in touch with you 🙂
It's important to have all your equipment charged before you leave and to take the electronics themselves in your carry-on luggage 🙂
Food/cooking
We always take tea with us, metal cups and a set of cutlery in a pocket knife. You never know when it will come in handy. In hotels, even when there is tea, they give tiny cups for it. And such a favorite of ours, familiar tea is an easy way to relax for a while in the evening.
If you take food it's just the kind that will survive the trip (won't break or melt) and are properly packed. I don't just mean airtight packaging, but give up cardboard boxes – they take up a lot of space, and be careful with bottles and glass – they are heavy and can break.
We always take a plastic food container with us, on the spot you can keep fresh fruit, sandwiches and other food for the road, instead of environmentally unfriendly packing them in disposables. However, if you absolutely prefer bags, you can get yourself decent plastic bags with a zipper closure (or zip-zip if you prefer), which are reusable. Those from Ikea work perfectly for us 🙂
In China we oriented ourselves to eating on the street, we also had breakfasts in the first night, so we didn't take food with us, except for small snacks for the road. Instead, we took a few jars for Olive and a bowl and plastic spoon.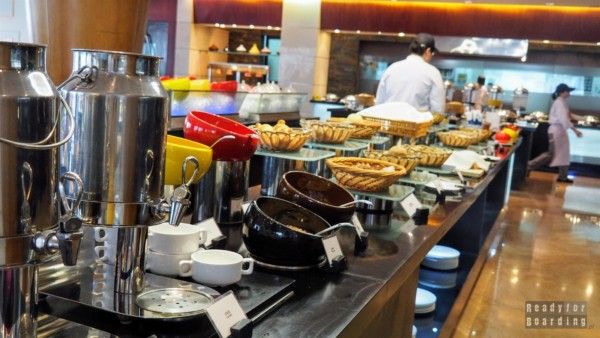 Things for the baby
I won't exaggerate if I write that things for Olive take up as much space as for an adult. Even though the clothes are smaller, you need to take a little more of them, so that you always have something on hand and on standby for a change of clothes. In addition, some kind of towel, diapers, sleepers, wrappers, toys will also come in handy – a lot of it! 😉
Just like for us, we also had to take warm clothes for Olive to China, as well as lighter ones. We even took a warmer jacket, because you never know. Most of the time, Olive "walked" in a long-sleeved onesie plus leggings, and that was generally enough. Sometimes a sweatshirt and chimney went on the wallpaper when there were colder days.
The important thing is that we used a lot carriers, And in this it is much warmer for the child, so you can dispense with one layer of clothing. In the stroller, on the other hand, it's always a good idea to keep a blanket or a sling to cover Bobasa. We were very careful not to overheat Olivia.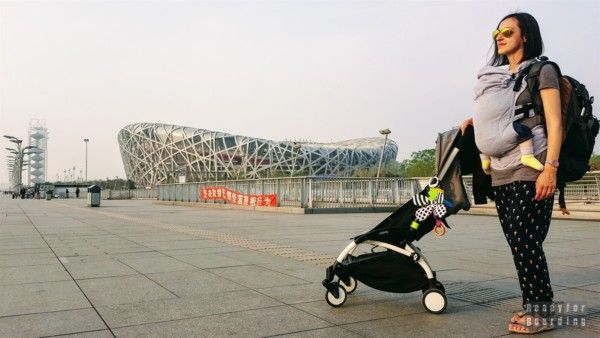 We also took with us, of course pampers, for a few days. In China, you can easily get a good supply of disposable diapers, so there is absolutely no need to carry them in. The situation is similar with wet wipes, although one whole pack from Poland was enough for us. We also had with us changing pads (several disposable and one reusable) – we didn't see such on site, so it's good that we took with us.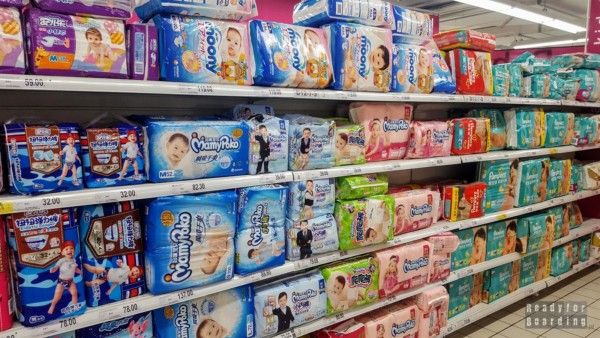 From universal things we recommend to take the mentioned carrier and/or sling (the sling can also replace the blanket) and a decent wrap, preferably bamboo, which cool cool on warmer days (also very universal).
Toys? This we took too much, as always 🙂 A few favorites plus one booklet would have been enough. In fact, Olive was much more interested in everyday items than in toys she already knew well. Now we would take far fewer of them, thus saving a lot of space.
As for baby care and protection products, we took disposable samples, a ton of which we got at the birthing school, at the hospital and from the midwife. However, we preferred not to risk local cosmetics on the delicate skin of the baby 😉 We also took a cream with a strong sunscreen, so that during our travels the sun would not burn Olive too much.
Entertainment
How to fill leisure time? If by some miracle you already happen to find a moment of free time, it's good to have a game, a book, a newspaper at hand. And here there is a lot of room for improvement.
Since we travel with a baby, we understand entertainment a little differently, as we focus on books and toys for the baby, but after all, the baby sleeps sometimes too 😉
The only book we take on the trip is a guidebook. We haven't taken other books with us for a long time for two reasons: first, we are not big bookworms, although we read more than the average Pole, and second, our salvation is an e-book reader. It takes up little space, is lightweight, can be handled with one hand, and the charged battery lasts for a whole week. For this we take a few magazines, more or less serious, which we throw away along the way.
Games? Reliable cards 🙂 take up little space and fit everywhere. Sometimes if we are going in a larger team we take Dobble and Hali Gali.
Less obvious
Our backpack is certainly not the pride of McGyver, but it's always a good idea to have the following in reserve: string (if only to hang up laundry), needles and thread, duct tape (thick/thin), garbage bags and triptychs (zip ties) for emergency situations.
Why trash bags in China? We were warned about the ubiquitous dirt, especially on trains, so we decided to take bags with us on which to spread our backpacks. It may not have been very dirty, but we saw that even the Chinese did not put their bags on the floor, but on a layer of plastic bags or newspapers. Besides, such garbage bags are a very versatile thing 😉
We also always have a cotton net on hand – not only for shopping, but you can fit some handy trinkets or wrap your gear in it.
Highlights! Don't forget your passport/ID/driving license! We recommend making a photocopy and also take it with you, but carry it in a different place from the original in case it is stolen or lost.
And be sure to check the expiration date 😉