Are you Ready for Boarding, Bambino? 😉
This day had to come, everyone knew it would happen, they just wondered when… And we waited a bit and suddenly bought airline tickets, for the first time for a family of 3 people! That is, our first flights behind the fences 😉
The introduction to this story is a little longer… Well, when Olive was less than two months old an interesting opportunity for us to travel further afield arose. We did not delay long and bought 3 tickets! …for a 9-hour flight! However, let the details remain a mystery for now, because this adventure is yet to come 🙂
Why am I writing about it? Because it's worth knowing the genesis of our first flight with Olivia. Well, we are not experts in flying in a child, because we did not have any experience. To be honest, until recently we counted ourselves among those who are able to ask the flight attendants to change seats if there was a toddler around who looked like he could make the next few hours more pleasant by crying 😉 Even if he was the cutest thing in the world, the chance of crying was still high, so why tempt fate?
Of course, our approach changed when Olive was born. We understood that children cry because it is their only way of communication, and they do not necessarily get hurt or want to make an 8-hour overnight flight memorable for all fellow passengers 😉
We knew that we wanted to travel with the child, nevertheless the older Olive the more question marks and doubts (because how to predict and plan anything in advance). First we tried ground transportation methods – weekend trips abroad and in Poland by car – test passed!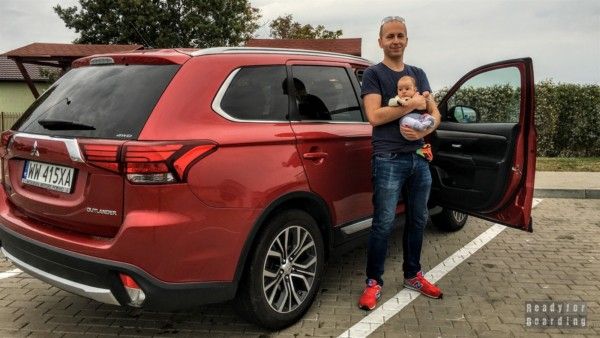 Initially, to be happy the baby needs really little – milk, a dry diaper and parents, that's the whole key to success. The further into the woods, the more commitment is needed. The baby is interacting with others, trying to communicate not only by crying, so you also need to take care of other new forms of entertainment for the youngest travelers. Especially since there is a really long flight ahead of us, so we decided to fly somewhere early for a trial 🙂
It may sound strange, but all in all, we told ourselves from the beginning that it's better to do everything in small steps. And that's how we wanted to go somewhere for a week in January/February, and the prospect of a longer flight motivated us to go on vacation by plane rather than by car 😉
What direction to start?
Of course, there are plenty of places we would like to fly to, but let's be realistic 🙂 We assumed that if a flight, it would be direct and 3-4 hours max, and the destination should be warmer than Poland. Initially we wanted to fly from Lodz, but the poor network of connections unfortunately discouraged us. So we searched from Warsaw. We only considered cruise flights, because charters at this time fly mainly in exotic destinations, so the flight is also long. Of course, we only included the directions where it is safe and the health service works properly 🙂
Our choice fell on Italy, more precisely for Sicily 🙂 We told ourselves that even if nothing comes out of the sightseeing, at least it will be possible to eat deliciously 😉 We did not set our sights on the beaches at all. We chose Wizz Air, Because the flight came out the most favorably priced, and also the connection itself suited us the most (Sunday-Sunday).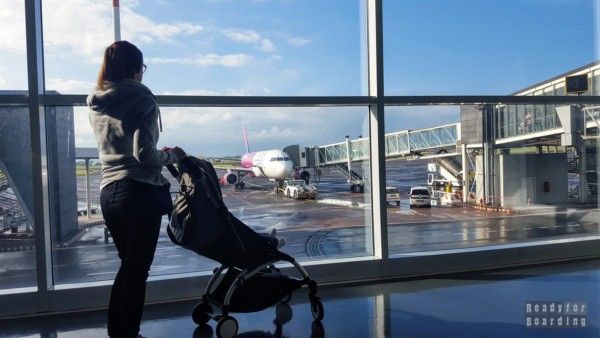 What else decided that this direction and not another? Since it's not the beaches, you need to have something to do on the spot, after all, you don't fly so many kilometers to sit in a hotel. It's amazing how many interesting places and sights there are on this largest island in the Mediterranean Sea! Both ancient temples, villas, amphitheaters, necropolises, baroque monuments as well as the reigning, eternally active Etna volcano.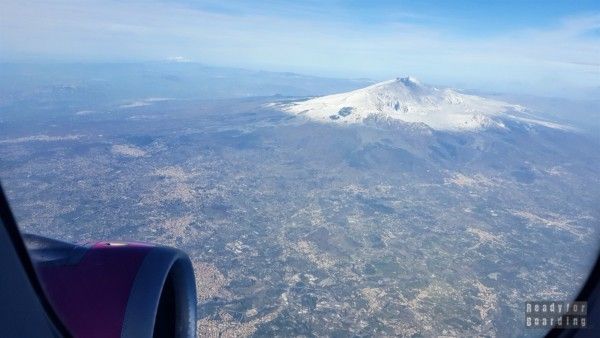 Initially, we wanted to drive all the way around the island, but studying guidebooks and websites, we came to the conclusion that it was too much for one week. And given that our pace is a little slower now, we decided to find an apartment in the eastern part of the island, and we will return to the western part at some point in the future. Sincerely? A week is not enough even for the eastern part 🙂
However, if for some reason Sicily does not seem an attractive destination to you, from other destinations interesting options for a first flight with a baby in our opinion are also: Portugal (Algarve), Spain, Malta or Greece (including the Greek islands).
A plane ticket for a child
Often there are questions about whether it is necessary to buy a ticket and a seat for a child?
No, you don't have to buy a seat, but you can.
And so, The baby does not fly for free! This is quite a common myth 😉
Admittedly, children's tickets are much cheaper, but still you have to pay something – prices vary depending on the airline (it can be 10% of the regular ticket, or some minimum fixed amount). A ticket bought does not mean the child has a seat. The general rule is that a child under 2 years old sits on the lap of the parents.
However, what to think about? However, it is worth considering buying a seat for a child, even an infant. This is what we did this time. Why we decided? A simple calculation: we knew that we wanted to rent a car on the spot for the whole stay, and you always pay quite a lot of money to rent a car seat.
After checking the cost, we found that it was cheaper for us to buy an extra seat on the plane and take our car seat with us! We will write about how a child travels on a plane in the next post 🙂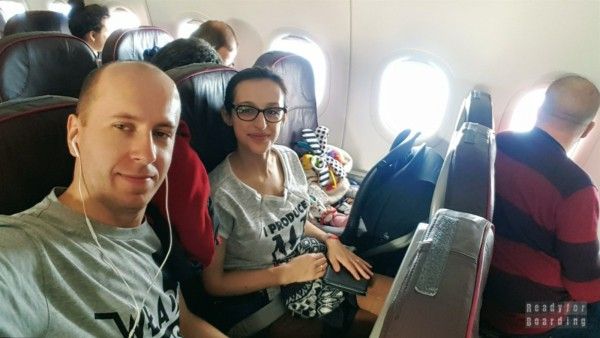 Luggage and packing… and a stroller for the baby?
About packing I would most like to forget 🙂 Unfortunately, the whole process is very difficult, and it's not just about the amount of stuff to take, because it's not a problem. It's more about the fact that packing now takes 2 or 3 times as long, because every now and then you have to feed, change a diaper, carry, etc. So our advice: start packing early. Seriously. I was always bad at it, but now I know that you have to stand on your head not to do it just before the trip.
What to take? In fact, a lot depends on where you fly. Sicily, like many other European destinations, is a place where you can easily buy everything for the baby, so the most important thing is to take a supply of diapers, wipes and pads for the first few days, as well as clothes, medicines, food and cosmetics.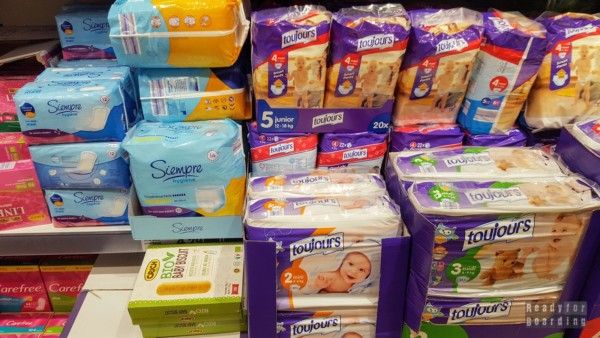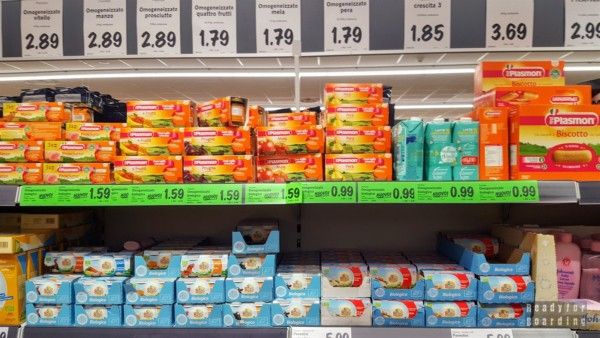 Contrary to appearances, we did not have the slightest problem with fitting into the kilogram limit, because Wizz Air has as much as 32 kg in the largest option, which we would easily pack in (our luggage included more than one suitcase).
In addition, for the baby you can take a stroller, which when boarding the plane is taken to the hold, but not ours 😉 We first traveled with a stroller Babyzen Yoyo, which is the only one that meets the requirements for hand luggage, so we could easily take it with us, which turned out to be useful when we were leaving the plane and waiting for our luggage (you need to remember that they do not always issue strollers immediately upon exiting the plane).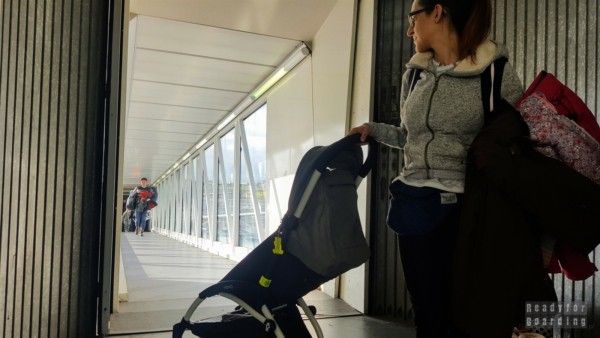 In general, the stroller worked super well during the trip, because it folds easily, is mega lightweight, and with the strap you can quickly throw it over your shoulder and it looks like an extra bag… probably the flight attendants didn't even notice that we have a stroller in our bag 😉
Baby on board!
This is what we feared the most. Will Olive tolerate the flight well? Will she sleep? Will she cry all the time? Whether it will not clog her ears?
So many questions… fortunately, we scoured the Internet beforehand and knew that the most important thing is that the baby should drink something during takeoff and landing, then it will regulate its own pressure, by swallowing.
It worked out! Both during takeoff and landing I fed Olive, which calmed her down and she even fell asleep, but not for long 🙂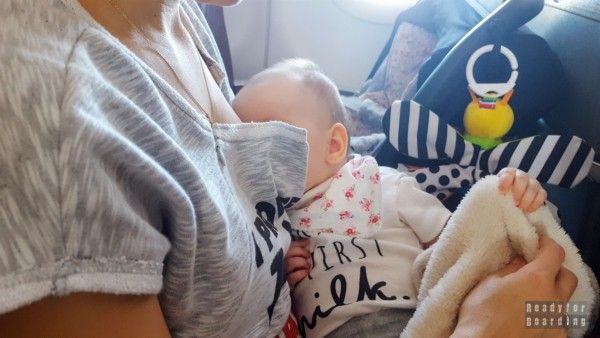 The flight itself was extremely comfortable. Both for us and fellow passengers…, because anticipating your questions: Olive practically never once cried during the flight there and back. Ot, you can see he is a born traveler after his parents 😉
Acclimatization on the spot?
Here everything already depends on the child. I've read about children who have trouble acclimatizing (even when a car trip far from home is involved) and it takes up to a week or more. We can't imagine it at all, and fortunately with us there was no problem at all.
At the site we were greeted by nice weather, about 15 degrees, so that after about half an hour, when we were fixing the car it began to pour as if from an onion! Fortunately, this was the first and last rain we experienced during our stay in Sicily.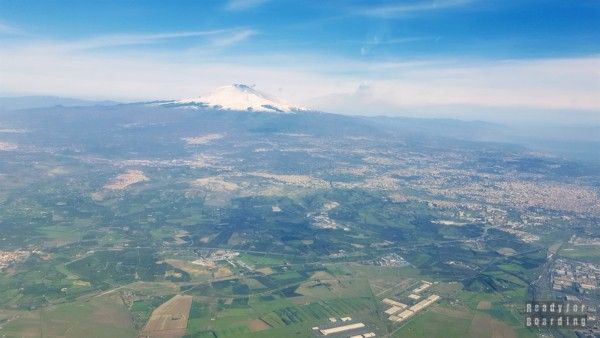 In general, the weather was warmer than in Poland, the air was cleaner and we didn't notice that Olive had any problem adjusting to the new place – everywhere is good where the parents are 🙂
Summary
The first flight with a baby is quite a stress, mostly for parents, because for children (especially the older ones), it is more fun and fun. By focusing on the baby ourselves, we forget that the flight used to stress us out.
It's worth preparing for the flight properly and try to relax, because only calmness can save us 🙂 We will write about this in the next post, that is, how to prepare and survive the first flight with a baby.
With this entry we also begin our coverage of the stay in sunny Sicily, soon the whole report with a handful of practical advice 🙂